nbn's™ flagship fibre access technology, designed for business
If you're a larger business on a fixed-line nbn™ service looking at a fibre upgrade to achieve up to 1000/1000Mbps symmetrical speeds, then nbn™ Enterprise Ethernet is the way to go.
Available as an upgrade to businesses within the nbn™ fixed-line footprint, your business can access full end-to-end fibre installed from the Fibre Access Node (FAN) back to your site with nbn™ Enterprise Ethernet.
This gives you incredibly fast connectivity to support your business internet, network services and other bandwidth-intensive applications.
Best of all, nbn™ Enterprise Ethernet supports the full range of FlexiPort Service Options – giving your business the ultimate in flexibility.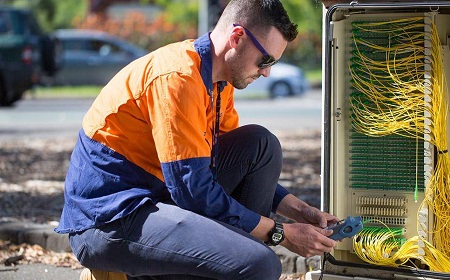 Eligible businesses can now access a $0 fibre install for nbn™ Enterprise Ethernet on a 36-month contract
Subject to a site qualification check, contact us for more information
Free setup and pricing is based on CBD Zoning, 36 month contract term, and standard installation.
Service is subject to availability and within Countrytell coverage area – to confirm availability at your location, enquire above.
Please refer to Critical Information Summary and full terms and conditions here
Imagine the possibilities...
Get in touch with out team today. We'll learn about your business needs and work with you to develop the best solution.
Other Business Grade Connectivity Options